D'Temple @ Southbridge Rd, Singapore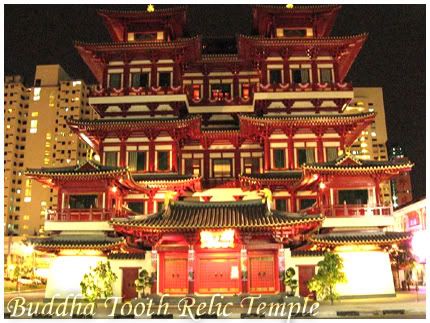 The Buddha Tooth Relic Temple is one of the most visited site in Singapore and it is located at the heart of chinatown. Some people said that the sacred Buddha tooth relic is housed in this magnificent temple. It is place in a Stupa made of 420kg of gold that was donated by devotess. Devotees and visitors can only see this thing through a glass window and it is open to the public twice a year. To be exact during the Lunar New Year and the Vesak day.

Well, I didn't even see the said Stupa when I was there last month 'coz it was already closed when we arrived. Of course, it would be closed 'coz we went there in the middle of the night hehehehe... So, we took pictures of the temple & Musuem instead. And marvelled on this magnificent temple.
posted by AudreyRose at



----------------------

Name: AudreyRose
Home: Philippines
Viewmy complete profile

|
Subscribe in a reader
AuctionAds: Increase the bid on your site's income!
AuctionAds