Artwork T-Shirt Design Competition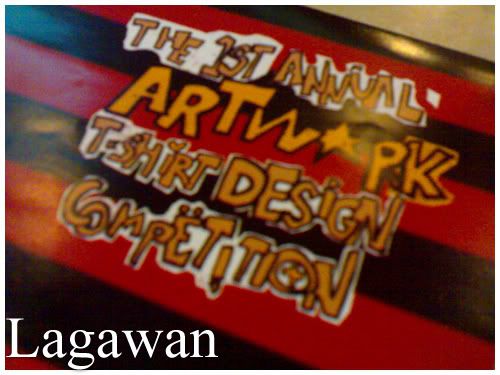 Are you a designer wannabee? Do you have talent in designing, drawing or painting? Well, if you are and you want to showcase your talent just join the 1st Annual Artwork T-shirt Design Competition. The deadline of the competition will be on Nov. 15, 2007. All you need to do is to buy an Artwork product like t-shirts, caps, skirts, bags and accessories to be able to join. Then you need to register for only 50 pesos, I repeat for ONLY 50 pesos, and they will give you a plain t-shirt to work on.

The prizes for the competition are: Grand Prize trip for 2 in Singapore with PHP 25,000 pocket money. 2nd Prize PHP 15,000, 3rd Prize PHP 7,000 and for the finalists PHP 3,000. So, what are you waiting for? Go to the nearest Artwork store and join the fun! And see you on Nov 15 at the judging venue. Well, as if I'm joining the said competition :) I'm NOT 'coz I promised my friend that I'll help her with her entry. But let's just wait and see.
Labels: Design Contest
posted by AudreyRose at |



----------------------

No Masskara Festival :(
Tomorrow will be the start of the Masskara Highlights and as what I had said, I'll go home in Bacolod and celebrate it, but unfortunately I can't wahhhhh.. My sister told me that I have to stay here in Manila until November. I don't have a choice 'coz she will be the one who'll pay for my plane ticket hehehe... That's what you get if you don't have a work and money hehehe.. I really hope that I can go home in November and attend the Tourism assembly.
Anyways, I'm making a new layout right now but I don't know yet if I'll use it here or upload it as a free layout in
Koficcino Designs
. Well, here's the screenshot of the retro (in blue) layout.
posted by AudreyRose at |



----------------------

Sugarnot! Guilt-free Sweets
Early this morning, I went to SM Megamall around 8:30 for my first (and I hope not the last) Bloggers' Breakfast at Sugarnot. And thanks to Enrico for bugging me for days just to go. Actually he's been inviting me to attend press cons, launchings, blogger events and so fort and so on, but my usually reply was "ok! Thanks but no thanks!" or "Sorry, I don't know anyone there, I'll just get OP". Well, I don't know what came to me and I said "sure why not?!" Maybe because I'm about to go back to Bacolod and I want to grab the chance to experience it and meet fellow bloggers. Well, whatever the reason is, I'm grateful that I went and meet this bloggers who were present during the breakfast, namely: Bea and Mark of
Clickthecity
,
Ajay
,
Marc
, Nina and Ryan, Noemi and
Eric
. And before I forget, we also met Sugarnot! CEO Wolf Lambsdorff, who told us everything we need to know about the company.
Sugarnot! is the first and only sugar-free coffee shop in the country. Not only do they serve coffee but also they offer meals, cake. Well, this coffeshop/pastry shop is really good for diabetics and dieter who wants to satisfy their sweet tooth without worrying about their sugar intake and counting calories of what they are about to eat for sugarnot! offers a sugar free, low-carb and low-fat goodies. They uses Isomalt sweetener in their concoctions as an alternative to sugar for it only contains 2 calories per gram.
Well, my favorite in all the food spread in front of us earlier was the Last Temptation their all time best-seller. It is really sumptuous and you won't think that it is sugar free. Everything just tastes good from coffee to pastries. And what's best to my first Bloggers' Breakfast are the take home goodies. Yippie! More Last Temptation, Oatmeal cookies and yummy Ensaymada. We were also given Gift Certificate and a VIP card which entitle as to a 10% discount.
Sugarnot!
5th Floor, SM Megamall
http://www.sugarnot.com.ph/



Isn't this Deliciouso?!



Tiramisu (in english: Throw Me Up)

Labels: food
posted by AudreyRose at |



----------------------

Masskara Festival: Sigue lang, Sige na! Bacolod Bato Kita!
October is here again and what else are we expecting? Of course the month long celebration of the
Bacolod
Masskara
Festival!
This festival was conceived in 1980 amidst the sugar slump by a group of local government, civic figures and artist as a support to left-up the City's economy.
Well, this could have dampened the spirit of everyone but not the Bacolodnon for it triggers their creativity and happy spirits. The festival aimed to encourage every one to stand tall, fight back for it's not the end of the road. This festival helps the people to keep on smiling despite the sugar crisis and it helps boost their low morale. And due to that, they earned or should I say we earned the title "City of Smiles".
Well, Masskara festival officially opened today and here's the schedule of activities for this year:
October 1
- Monday Festival Opening
Food and drinks kiosks will operate until Oct. 21 (Public Plaza and SM City)
Magica
MassKara
(Orange Gallery) - Ongoing till Oct. 31
Oct. 13, 2007
MassKara
Queen Pageant
Oct. 18, 2007
Countdown to Charter Day
Street Party Street Dancing Competition Schools category
Oct. 19, 2007
CHARTER DAY celebration
Civic Military Parade
Electric
MassKara
MassKara
Fantasy Costume Show
Oct. 20, 2007
Street Dancing Competition
Barangay
Category
Masquerade Ball
Electric
MassKara
MassKara
Drum Beating Contest
Oct. 21, 2007
S
treet
Dancing Competition Open Category
CLOSING
posted by AudreyRose at |



----------------------

Name: AudreyRose
Home: Philippines
Viewmy complete profile

|
Subscribe in a reader
AuctionAds: Increase the bid on your site's income!
AuctionAds