Yippie!! New L A Y O U T!!!!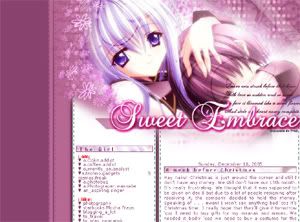 I just uploaded the new layout. It is supposed to be uploaded on January but I can't wait any longer so I decided to upload it before Christmas. A new layout and a lot of exciting things to be posted here like wallpapers and templates. But I'm not yet sure when is the exact date. And before I forgot stock photos too :)

Anyways, I got this lovely picture from animecubed.com the other day, and it's really cute so I decided to make my new layout out of it. Hope you like it as much as I do. It's in carnation pink. And thanks to blinding-light for the brushes used in the layout :)

Labels: Layout
posted by AudreyRose at



----------------------

Name: AudreyRose
Home: Philippines
Viewmy complete profile

|
Subscribe in a reader
AuctionAds: Increase the bid on your site's income!
AuctionAds