Thanks to my officemate for giving me a birthday party :)
THANKS GUYZ
! I really appreciate it. We had the party at Lemon's house in Pasig and she was the one who cooked everything with the help of Joy, Ate Pau and Mei (andun ba si Mei?!? Hehehe..) I was really flattered and Happy. Everyone had a great time and a full stomach (and sarap kasi ng luto ni Lemon) and everyone had a take-home pa hehehe… It was a simple yet memorable party I ever had. And it's my first time to celebrate my birthday at a friend's house too. So, Thank You! Thank You! Thank You Guyz!
Aside from that, nagvideoke pa kami sa kabilang bahay hahaha.. We rented naman noH! While they cooked we sang as in we sang to our hearts content talaga. Si Iline grabe yong birit hahaha.. She's sing the Kitchie Nadal song na "hoy kaibigan ko…." Pero yong lyrics nya "hoy pinoy ako" hehhee… tange talaga kaya tawanan na naman lahat. Then, they called us na we're going to eat na daw. Kaya yon we eat and eat and eat and eat up to we had a stomach ache. After that we went home 'coz we're very tired and sleepy already.
I slept the whole afternoon. My sis and me are planning to go out but it was cancelled. She's really tired too. So when I woke up around 11PM I told her we're going to order some Domino's Pizza but we got a problem we don't have any money hehehe.. So I went down to withdraw some money unfortunately the ATM was offline. So we decided to go out and celebrate my birthday the next day :)
Anyways, here's the pic :)

full force. Nyak! si Joy pala wala hehehe...


Hay Naku! I've been looking for our familia Zaragoza pose
but I can't find it.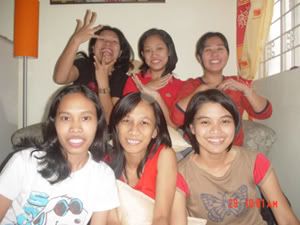 Hoyz! Ang usapan kingkoy pose hindi pacute!
Etong tatlong to...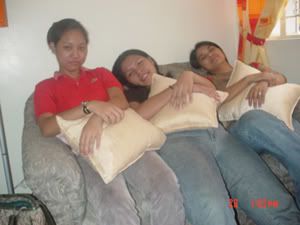 Inaantok na sila. di pa nga nakastart ang kainan hehehe....

Kain muna bago magpapicture noh!
Grabe yong tawa ni Lemon parang abot langit hehehe...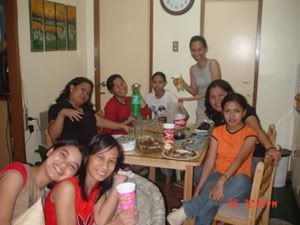 Model ng sprite and tumble ang drama ng mga lola
emz ano ginagwa mo? parang ABno ka dyan :P~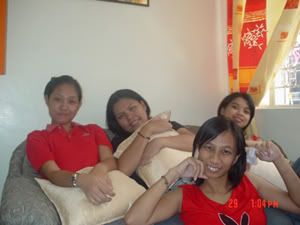 si pie talaga pacute pa......
at si mei din whehehe....