LIGLIGAN PARUL FESTIVAL
8:53 PM

Yesterday, we went to the "Christmas Capital of the Philippines", San Fernando Pampanga, for the LIGLIGAN Parul or the world-renowned Giant Lantern Festival. It was my first time to witness the said festival and I was really amazed. The lanterns were really beautiful and exceptional. The commercial "walang ganyan sa States" comes to my mind while watching the dancing lanterns 'coz it's only in the Philippines where you could see this. Well, all I can say is my 1.5hr trip fom Manila to Pampanga was worth it.

Well, it's not the usual lantern competition we see on TV or in the Mall 'coz the lanterns are really HUGE. As in 20 feet high lanterns carried by a truck, used a gazillion of light bulbs (just kiddding! They only used 5000 light bulbs) and controlled by a rotors. This rotors are the one that makes the light dance to the rythem of the music in various beautiful patterns.
This year 8 barangays joined the competition to show-off their craftsmanship and ingenuity, namely: Brgy. San Juan, San Nicolas, San Felipe, Telabastagan, Santa Lucia, Sto. Nino, Dolores and Del Pilar. It is a community effort where in the entire barangay help in making this lanterns, from the design concept, to the construction and labor. They are doing this not for the cash, but for the barangays pride and honor. And that's something!

Aside from that, there's also a fireworks display after the grand event. And if you want to see this awesome lanterns just head to the Paskuhan Village in San Fernando, Pampanga for they will display the Giant Lanterns there from Dec. 16 upto Dec 30, 2007. Or contact the Pampanga's Tourism Office.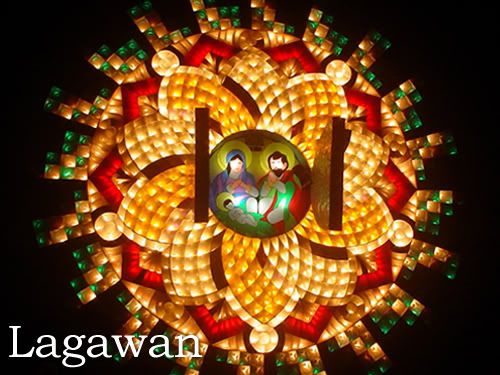 2007 Giant Lantern Festival Winner: Brgy. Telabastagan
They have lots of special effects and the lights are really in sync with the music.



2nd Runner-up: Brgy. San Nicolas.
This is one of my favorite lantern in the festival. I like the details of their tiles and it really sparkles in this photo.



3rd Runner-up: Brgy. San Felipe
I also like San Felipe's special effect. They started with a little boy, then with an angel flying and after the narration, the lights started to dance with the groove.

More
Giant Lantern Pictures
here